1928: The birth of Incabloc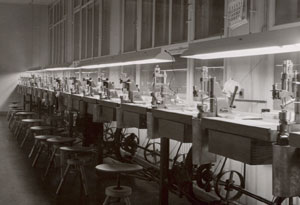 a staking tool for driving in jewels
Fritz Marti started his research into anti-shock devices when he worked at Fabrique Election. In April 1928 he created an "unbreakable" watch, fitted with a shock absorbing system based on "mobile balance-staff jewels" (Swiss patent n° 141098, filed in July 1929). It was the first device of its kind and became a feature of the Incabloc® system.


Fritz Marti resumed his research at Portescap where it increased rapidly in scope.

On March 2, 1933, Portescap filed a new patent for an elastic bearing system (Swiss patent n° 168494). Fritz Marti's conical construction succeeded in resolving a technical problem inherent in the way the jewel was sprung. Previous systems had the jewel on two springs, one to absorb lateral blows and the other to counter axial shocks. The cone shape directed lateral shock to an axial direction and thus required only one spring. Another advantage was that the new bearing block system needed minimum work to the movement blank — a punched hole sufficed.

It turned out to be the right system. Portescap started its production in June 1933 and it was sold for many years under the Incabloc trademark that the company registered in Switzerland on July 6, 1933.
Next